Fluid Power & Flow Control Components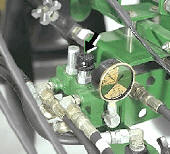 We bring the power and control of micro-precision machining and value engineering to power and control systems like yours.
American Micro has extensive experience in manufacturing components for industrial, mobile and aircraft hydraulic systems, as well as climate control systems and a variety of flow control applications. Our CNC, multi-spindle Swiss turning/machining cells are configured to reduce operations and efficiently produce fittings, valves, connectors and critical pump and flow control components. Our unique expertise in micro-precision machining has allowed us to master drilling, turning and machining of the most intricate fluid connector and control components in the world.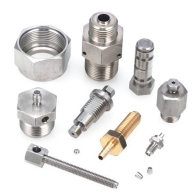 With a process engineering team that understands the tolerance, finish and cost requirements of flow control applications, we can "value engineer" the right manufacturing solutions for your fluid power or flow control system design.