Global Manufacturing Expertise
ARE YOU TRYING TO OPEN NEW GLOBAL MARKETS, BUT DON'T HAVE LOCAL/REGIONAL MANUFACTURING TO GET THERE?
WHAT KIND OF MANUFACTURING COST AND QUALITY PRESSURES ARE YOU FACING IN THE GLOBAL MARKETPLACE?
American Micro understands that today's manufacturers need to compete on a global scale and that means developing a worldwide supply chain - even for critical, high value components that are difficult to source outside of the U.S. That is why we have taken our unique expertise in high-precision manufacturing to Asian and European markets . . . and why we have developed new business relationships in Malaysia and Switzerland.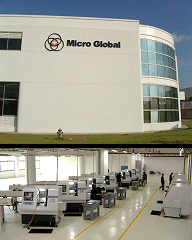 In addition, we have recently started operation of a new manufacturing facility in Xiamen, China called Micro Global. American Micro is continually looking for ways to fulfill regional demand for precision products and we plan to expand our global reach in the future to serve the needs of our OEM customers around the world.