American Micro News and Events
Read about Clermont County honor for economic development . . .
AMERICAN MICRO WINS INVESTING IN PEOPLE AWARD
---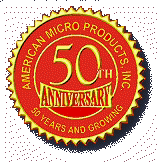 American Micro: Celebrating 50 Years of Manufacturing and Growing
American Micro Products, Inc. celebrates 50-Year Anniversary during period of rapid business expansion.
BATAVIA, OHIO (October, 2006) - American Micro Products, Inc. recently kicked off a year-long celebration of its 50 years in business. Headquartered in a 140,000 square foot facility in Batavia, Ohio, American Micro is a privately owned manufacturer that has not only survived recent decades of U.S. and Midwestern manufacturing attrition, but enters its 50th year in the unique position of being one of the fastest growing businesses in the Greater Cincinnati, tri-state area.
Gerard Paroz, a Swiss immigrant, founded the company in August, 1957 in Cincinnati, Ohio. After leaving the Gruen Watch Company, he sought to supply the local business community with high precision machined parts using Swiss turning technology, a field in which Gerard had become an expert.
Eventually supplying high-precision and micro-precision solutions for some of the worlds largest OEMs in the diesel fuel systems, aerospace, medical device, energy and communications sectors, American Micro has become a leading global supplier of precision manufactured components and assemblies. To meet the needs of its growing customer base, the company moved to its current Batavia manufacturing facility in 1996. In 1998, American Micro Products acquired American Connector Engineering, Inc., a manufacturer of circular, glass-to-metal, hermetically sealed electrical connectors. American Micro has also developed new business relationships in China, Malaysia and Switzerland to fulfill demand from global OEM customers for precision products.
Starting in August, American Micro began celebrating the half-century benchmark with a number of planned activities to commemorate the milestone, including a recent company event for their 240 employees.
"Our unique expertise in high-precision manufacturing has kept our business strong while other American manufacturers have struggled to compete globally," notes American Micro CEO, Pierre Paroz. "The special kind of work we do is difficult to send offshore without the high level of engineering and operation expertise that we have developed over the past 50 years."
Recognized as one of Cincinnati Business Courier's "Fast 55" companies, American Micro has experienced a compound average growth rate of 30% over the last 4 years. The company has established an ambitious recruiting and training program for machine tool operators and programmers with even higher growth projected over the next several years. Recently cited by the Los Angeles Times for its aggressive hiring plans, American Micro anticipates hiring 30 to 50 new employees over the next year to fuel its rapidly expanding business.
To develop the highly specialized machining skills needed by the company, the company has partnered with local leaders in vocational education and the Ohio Department of Development's Industrial Training Program. In fact, the company recently hired a full-time trainer to develop the machining skills of its employees. "To fulfill the current and future demands of our precision manufacturing business, we're constantly seeking and developing people with critical machining and programming skills," cites American Micro president Steve Kappers. "We feel very fortunate to be a manufacturer which is expanding its employee base in the Cincinnati community as we enter our 50th year."
Recognized for its business and philanthropic contribution to the local area, American Micro was recently featured on WCPO's (TV channel 9) "Beyond The Bottom Line" broadcast for its community-minded commitment to helping and funding local charitable organizations.

For more information about American Micro and/or its connector products, contact American Micro Products, Inc., 4288 Armstrong Blvd., Batavia, OH 45103, Phone: (800) 479-2193, FAX: (513) 732-3535, Web site: www.american-micro.com.